The winner of the Fall Raffle was ticket number 18768, Eric Malagar!
Mr. Malagar wins free tuition for next year or $10,000 cash.
The winning ticket was sold by Paul Vandergriff.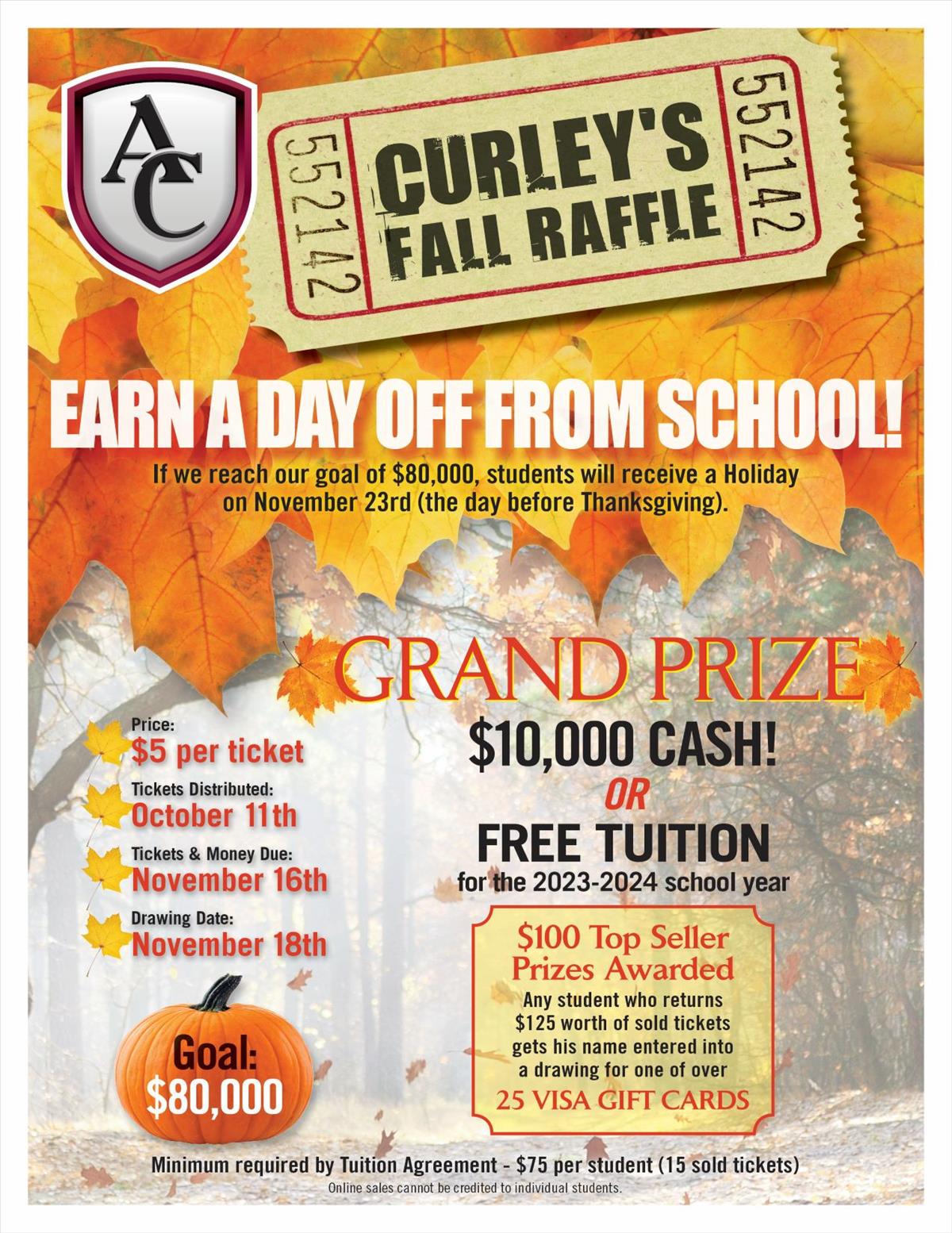 Students were given their Fall Raffle ticket packets this week by their faculty advisors. The raffle winner will have their choice of free tuition for the 2023-24 school year or $10,000 cash. All sold tickets are due back by November 16th and families are reminded that per the tuition agreement, each student is required to return a minimum of $75 worth of sold tickets (or be charged $150 on their tuition).
This raffle benefits every Curley family as money raised goes directly toward the school's operating budget. There will be "Top Seller" prizes and any student returning $125 worth of sold tickets will have his name entered into a drawing for 25 Visa gift cards. If we reach our $80,000 goal, students will have the day before Thanksgiving off from school. Additional tickets can be picked up from the Advancement Office at any time during school hours.
Thank you in advance for your support of this important Curley fundraiser! Please e-mail Barry Stitz at bstitz@archbishopcurley.org with any questions.
You can also purchase raffle tickets online. We will mail you the stubs, but we cannot credit online purchases to any student.
To offset the credit card charges for online purchases, we are asking that you purchase a minimum of two tickets.
Of course, we encourage you to buy more!
The raffle will take place on November 16th and we will contact the winner by phone.
Thank you in advance for your support of this important school fundraiser.
Click here to purchase tickets online