OCTOBER 22, 2022
2022 Homecoming Event Schedule
Friday, October 21st
7:00 pm:    Pre-homecoming alumni celebration at Della Rose's Perry Hall Pub (5001 Honeygo Center Dr.)
Saturday, October 22nd 
9:00 am     Alumni Soccer Game.  $20 to register and get a T-shirt.   Register below:
9:00 am      Alumni Cross Country Race. $20 to register and get a T-shirt. register Below:
12:30 pm     Alumni Hospitality Tent to open at 12:30 or conclusion of soccer game.
2:00 pm     Varsity Football vs St. Mary's
Hall of Fame Induction at half time of football game.
6:30 pm     Hall of Fame dinner  (invitation only)
Student Dance 8:00-10:30 PM
The Student Dance will take place from 8-10:30 pm. Tickets are $30 per couple.
Tickets for the dance will only be on sale until Friday October 21st at 3:00 PM
WANT TO BE A HOMECOMING SPONSOR?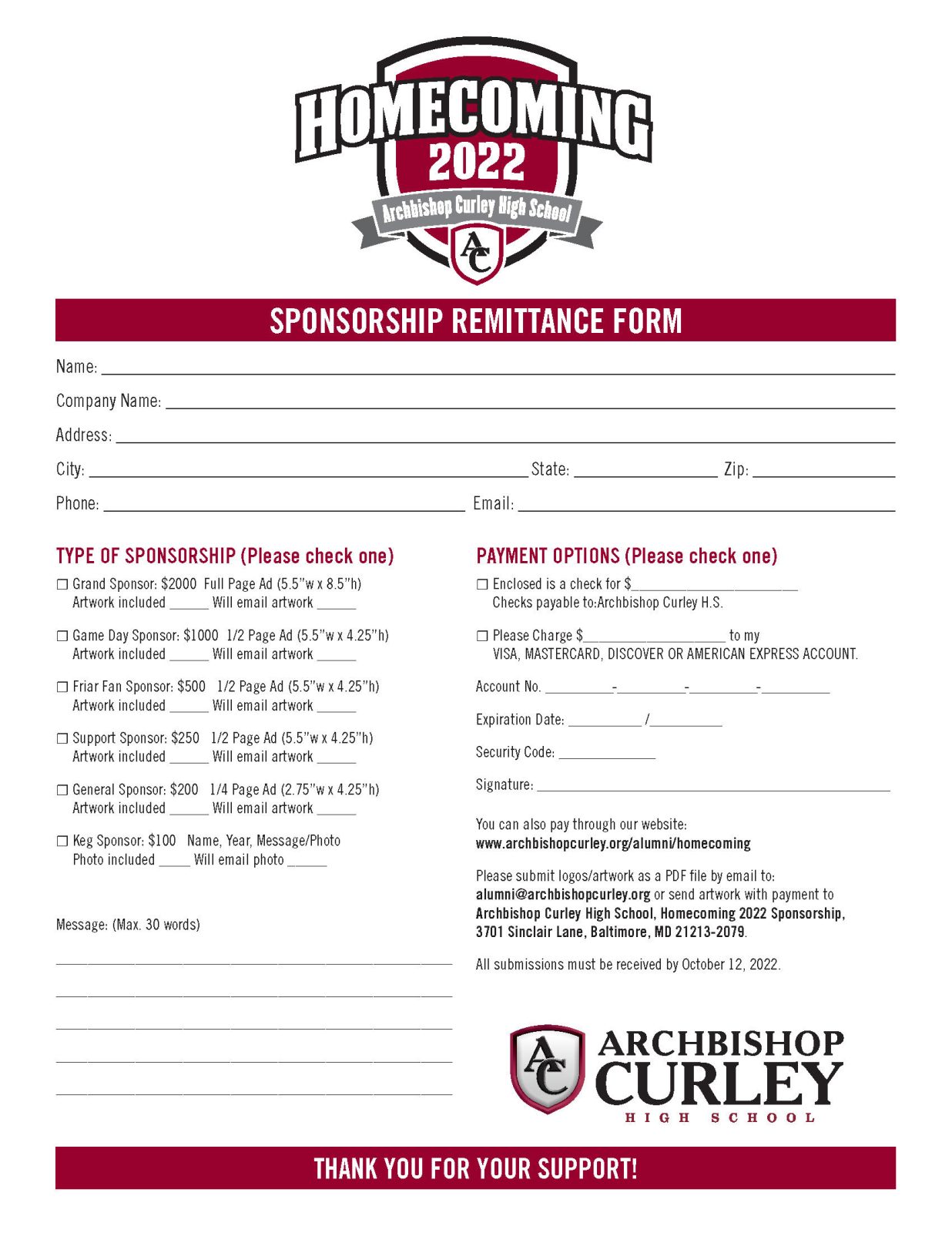 ---
We must have sponsorships and artwork in our hands by Wednesday, October 12th to be included in the Homecoming Program.

You can choose a sponsorship level and use the form above to purchase online.
OR
Download the remittance form Click Here and mail it with your check (payable to Archbishop Curley High School)  to:
Greg Loftus
Homecoming Sponsors
Archbishop Curley High School
3701 Sinclair Lane
Baltimore, MD 21213