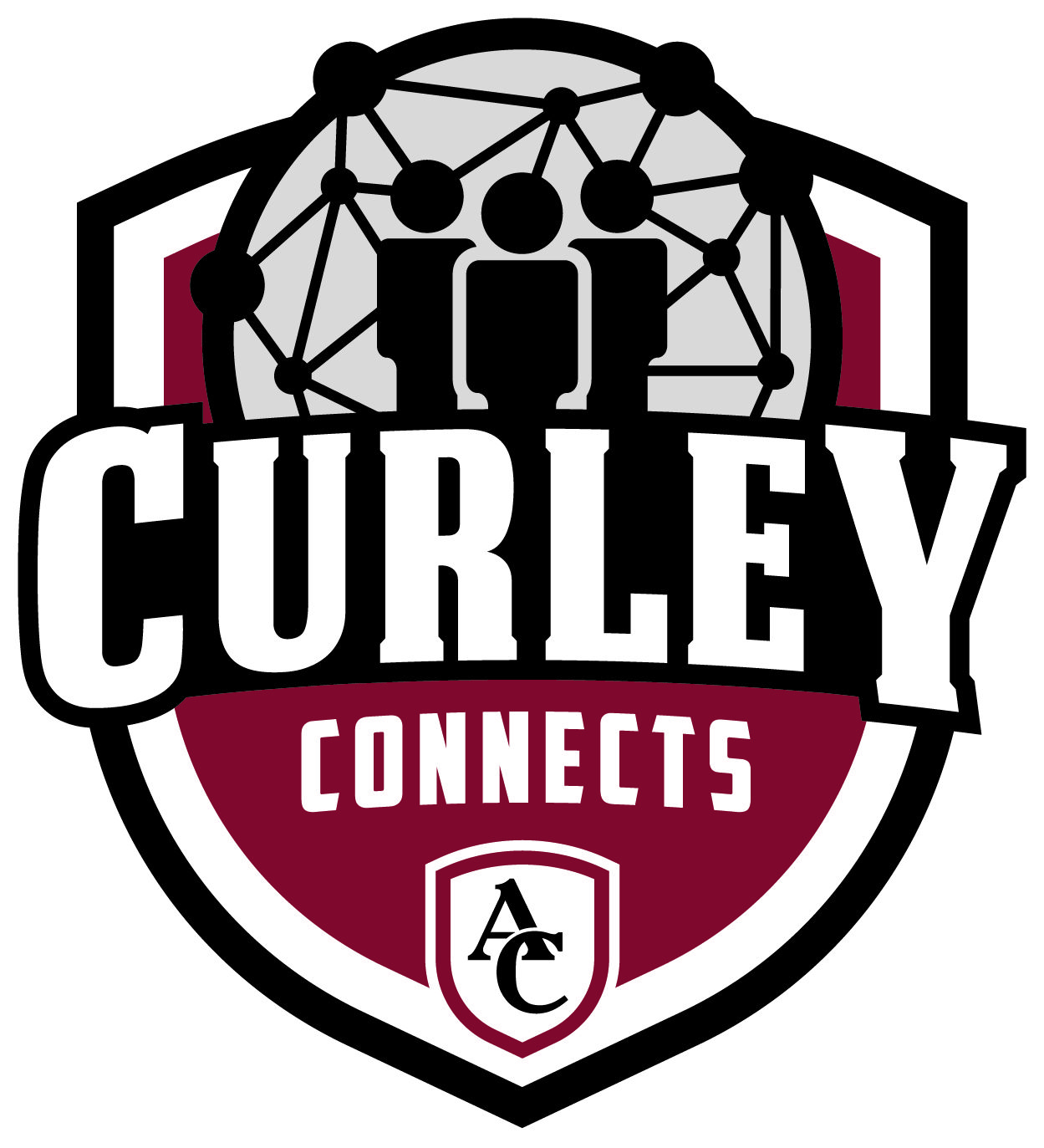 ---
Business Networking and Career Resources
Welcome to the Alumni Business-to-Business Directory, where you will find the contact information for businesses and individuals who are alumni of Curley!
Our objective is simple: to provide our alumni and friends with the opportunity to support alumni owned and/or operated businesses. This directory is a small sampling of the wonderful diversity of our alumni occupations.
We encourage you to take advantage of the services provided by our alumni businesses and help us to continue building our extended Curley Family.  If you are interested in being included in the Alumni Directory, please contact the Alumni Office at 410-485-5000 (x280) or by e-mail at bstitz@archbishopcurley.org.
_____________________________________________________________________________________________
Career Day (March 10, 2023)
Interested in presenting at this year's event? Please contact Greg Loftus, Director of Alumni at gloftus@archbishopcurley.org.
Presentation Information
25 minutes per session / 2 sessions max
Equipment Provided
Presentation information should include:
Education Needed (Undergrad and Grad)
Suggested Major
Skills needed
Salary Range
Current Employment
A Day in the Life
---

Academy Mortgage Corporation
Contact – Mark McNicholas
Address: 6960 Aviation Blvd., Ste E Glen Burnie, MD 21061
Phone: 410 322 7457
Fax: 866 929 3518
Email: mark.mcnicholas@academymortgage.com
Website address: www.academy mortgage.com/markmcnicholas
Accu-tech
Contact – Joe Deckwar '90, National Wireless Account Manager
Address:
Phone:
Email: Joe.Deckwar@accu-tech.com
Website address: https://www.accu-tech.com/
Description of Business: I work in telecommunications. My focus is in DAS systems. If I can be of any assistance just reach out.
All Requests DJ – DJ Bill The Party Shaker
Contact – Bill Ziemski '85
Address: 1609 Dundalk Ave Baltimore, Md 21222
Phone: 410 633-2639
Fax: 775 406-9214
Email: Partybz@aol.com
Website address: www.Billyzee.com
Description of Business: A DJ service for all events! Online planning so you can choose the songs online before the event. Offering a projector with a 100″ screen, or a 40″ or 22″ monitor for music videos and photo montages. Live camera available to project guests on the screen. (favorite at school dances). Dance floor lighting of all colors, shapes and movements with lasers, smoke, bubbles, snow or mood lighting. Featured DJ of the Knot receiving Excellent Ratings. A DJ who goes beyond the music to personalize your event with elegant fun.
Atlantic Catering
Contact info: Raoul Frevel Jr. 91'
Vice President of Operations
410-254-6662 ext 126 or 410-262-5470 cell
Fax: 410-254-8540
Email address: rfrevel@atlanticcaterers.com
4507 Harford Rd, Baltimore MD. 21214
Website: www.atlanticcaterers.com
Business Description: Atlantic Caterers Inc is a Family owned & Operated Local Off Premise Caterer run by the Frevel & Green Family since 1963. We are available for all your catering needs from 50 people to 5,000.
Atlantic Union Bank
Contact info: Brian Bynion '86, Senior Vice President
Phone: 443-243-5913
Email address:
Website: https://www.atlanticunionbank.com/
Business Description: I manage a commercial bank group and would like to grow the mid-Atlantic area with other Curley graduates. We're a $21.0 Billion dollar company and growing. I welcome the chance to speak. 443-243-5913
Balsamo, Stewart, Lutters & Ruth, P.A.
Contact: Paul Balsamo '68
508 Rock Spring Road
Bel Air, MD 21014
(410) 838-3535, (410) 879-3535
Fax (410) 879-4528
Paul.Balsamo@bslrcpa.com
www.bslrcpa.com
We are a local CPA firm based in Bel Air. We provide accounting, tax, and business consulting services to small and medium sized businesses in Harford and Cecil Counties as well as Baltimore City and County. Our accounting and tax services include estate and trust planning and taxation as well as QuickBooks consulting and payroll preparation.
Baltimore County Public Schools
Contact: Clif Scruggs '84, Teacher
Email: cscruggs@bcps.org
Website: https://www.bcps.org/
Business Description: I help students appreciate History in a gazillion ways.
Bausch Health
Contact: Justin Shields '09, Territory Manager
Address:
Phone:
Email:
Website:
Description of Business: Pharmaceutical Sales.
Body by Vi
Contact: Dan Herr '90
Phone: 410-218-5733
Email: herrsports@yahoo.com
Website: www.danherr.bodybyvi.com/
Description of business: Visalus is the #1 weight loss and the #1 Fitness Challenge program in North America. Join the Body by Vi 90 Day Challenge and start getting healthier today. Learn how you can get fit for free as well as make additional income. As a Curley Alumni, you would qualify for an additional bonus and discount.
Broccolina Brothers Construction Co.
Contact: Anthony Broccolina '92
Address: 8205 Edwill Ave. Rosedale Md 21237
Phone: 410-866-0090
Fax: 410-866-0090
Email: bbcconstruction@aol.com
Website address: none at this time was (www.broccolinabrothers.com)
Description of Business: Home Improvement and Repair. Full service residential and commercial construction and repair, everything from siding to windows and doors, decks, drywall, painting, interior and exterior work, custom carpentry, etc.
C & C Fencing, Inc.
Contact: Michael Costello '99
Address: 1105 Oak Ave.
Joppa, MD 21085
Phone: 410-836-7287 or 1-888-40FENCE
Fax: 410-836-0308
Email: cncfencinginc@yahoo.com
Website: www.cncfencing.com
Description of Business: A local family-owned & operated Maryland business installing residential, commercial, and industrial fencing in Baltimore, Harford, Cecil, and surrounding counties year-round.
Catalyst Multimedia Powered by Proforma
Contact: Greg Glinowiecki '71
Address: PO Box 19089
Towson, MD 21284
Phone: 443-384-2090
Email: greg.glinowiecki@proforma.com
Website: www.proforma.com/catalyst
Branding that fits your business and budget. Since the turn of the century, we have worked with local businesses to establish their identity, enhance their image, and improve customer experience to drive sales.
With capabilities that span the media spectrum, we provide products and services that can compliment and unify your current marketing efforts. We are your one source for infinite resources in print, web, promotional, video, and digital media.
Think of us as your marketing agency without the fees.
Charvat Consulting
Contact: Matthew Charvat '99
Address: Baltimore, MD
Phone: 443-604-4481
Email: charvatconsulting1@gmail.com
Website: www.charvatconsulting.com
Description of Business: Human Resources consulting firm specializing in Compensation and Organizational Development. We help companies align their compensation programs with their overall philosophy and business plan.
Commodari Group of EXP Realty
Contact: Robert Commodari '85
Address: 7939 Honeygo Blvd. #121
Baltimore, MD 21236
Phone: 443-512-0090
Fax: 443-512-0054
Email: rcommodari@comcast.net
Website: www.talktorob.com
Description of Business: I help people buy and sell residential real estate.
John S. Connor, Inc.
Contact: Richard Higgins '65
Address: 799 Cromwell Park Dr., Suite A
Glen Burnie, MD 21061
Phone: 410-863-0211
Fax: 410-863-1496
Email: richh@jsconnor.com
Website: www.jsconnor.com
Description of Business: Provider of transportation and logistics services-international and domestic by air, land or sea, customs broker, foreign freight forwarder, NVOCC. 5% of net profit of all business generated from this ad will be donated to Archbishop Curley High School.
Conventual Franciscan Vocation Office
Contact: Fr. Russell Governale, OFM Conv.
Our Lady of the Angels Vocation Office
223 Bedford Ave. #306
Brooklyn NY 11211
Phone: 718-510-5822
Email: vocations@olaprovince.org
Website: www.franciscans.org
Description of Business: Assist those considering a vocation to religious life or priesthood in the Franciscan community.
Cooper Consulting Group
Contact: Scott Walton '00
Phone: 410-979-9320
Email: sjwaltonvpa@gmail.com
Description of Business: Mid-Atlantic based consulting group specializing in employee training. Business training in leadership, management, generational differences, communication, customer service and mentoring are only a few of the many offerings. We bring experience and diversity in helping your organization grow, strive for excellence, and build leaders. In our customer centric approach to delivering material, we provide individual, group, and corporate consulting services to improve/grow organizations, develop talent, support organizational goals, and provide positive change with your organization.
CostSeg Energy Solutions
Contact: Jerry Lotz '74, Savings Advisor
Phone:
Email: jlotz@costseges.com
Website: https://costseges.com/
Description of Business: We help companies and individuals save money in a number of areas in which they spend money.
* Savings on Federal Income Taxes for people and companies who own and improve residential rental, multi-family and commercial property
* Savings on everyday expenses (cell phone plans, internet services, security system contracts, pest control contracts etc….) for businesses and consumers
* Captive Insurance
* Creative Life insurance programs
* FICA TAX savings for employers that also gives employees additional wellness benefits and a bump on take-home pay
* Income producing opportunities for building owners
CruiseOne
Contact: Wayne R. Schmitt '65
Address: 2382 S. Winona Ct.
Denver, CO 80219
Phone: 303-935-6600
Fax: 303-934-8037
Email: wschmitt@cruiseone.com
Website: www.cruiseone.com/wschmitt
Description of Business: We sell cruises as individual vacations, reunions, conferences and fund raisers. We have access to all cruise lines, from the contemporary to the luxurious.
Delmarva Tax Services
Contact: Stephen Berkeridge, '99
Address: 912 Westerly Ct.
Newark, DE 19702
Phone: 410-499-1456
Fax: 302-834-3485
Email: stephen.berkeridge@hdvest.net
Website: myhdvest.com/stephenberkeridge
Description of Business: I provide tax and financial planning for business and individuals. I can also provide forensic accounting services
Dietz Surveying Co.
Contact: Brian Dietz '86
Address: 8119 Oakleigh Road
Baltimore, MD 21234
Phone: 410-661-3160
Fax: 410-661-3163
Email: brian@dietzsurveying.net
Website: www.dietzsurveying.net
Description of Business: Residential and commercial land surveying and subdivision design. Contact Dietz Surveying Company for all your surveying needs: Boundary Surveys, Topographic Surveys, ALTA/ACSM Land Title Surveys, FEMA Flood Certifications, Site Plans, Zoning Surveys, Construction, and Construction Stakeout.
Elite Tournaments
Contact – Mike Libber '94
Address: 12459 Barnard Way, West Friendship, MD 21794
Phone: 410-746-1334
Email: mlibber@elitetournaments.com
Website address: www.elitetournaments.com
Description of Business: Elite Tournaments is a leading provider of full service event management. We provide customer packages that address the specific needs of your organization. We can assist your organization with an existing event or help create a new event.
First Choice Automotive
Contact: David Buchanan '87
Address: 710 Pulaski Highway
Joppa, MD 21085
Phone: 410-676-5552 or 410-679-0043
Fax: 410-676-1376
Email: fcauto@verizon.net
Website: www.fcautomotive.com
Description of Business: Complete Auto, Truck and Diesel Repair and Service; 24-Hour Emergency Towing Service
First Financial Group
Contact: Michael Yanchoris '79
Address: 401 Washington Avenue, Suite 600
Towson, MD 21204
Phone: 410-828-5400 ext. 4248
Fax: 410-832-4292
Email: myanchoris@firstfinancialgroup.com
Description of Business: Personal and business planning including insurance, estate planning, disability income, mutual funds, employee benefits, investments, long term care, retirement services and trust funds. As an investment specialist, I have the products and expertise to create a customized investment strategy that is right for you.
Foley & Smith, LLC
Contact: Michael Foley '67
Address: 107 Duncannon Road
Bel Air, MD 21014
Phone: 410-458-2539
Fax: 443-787-0254
Email: michael.foley@foleyandsmith.com
Description of Business: Federal tax accounting – research & experimental credits, fixed asset studies, depreciation, cost segregation.
Franciscan Friars Vocation Office

Contact: Br. Nicholas Romeo OFM Conv. '04
Address: 1359 Monroe St., NE
Washington, DC 20017
Phone: 202-681-6051
Email: vocations@olaprovince.org
Frost & Associates – Attorneys at Law
Contact: Glen E. Frost, Esq., CPA '02
Address: 10480 Little Patuxent Parkway, Suite 400
Columbia, MD 21044
Phone: 410-497-5947
Fax: 888-235-8405
Email: Glen.Frost@irstaxlitigation.com
Website: www.irstaxlitigation.com
Description of Business: As an attorney licensed in MD, FL, and DC and a Certified Public Accountant, Mr. Frost focuses his national and international practices on representing clients in collection, examination, and appeals matters pending before the Internal Revenue Service ("IRS"). Additionally, Mr. Frost represents clients in civil and criminal litigation in U.S. Tax Court, U.S. District Court, and State Courts. Mr. Frost also provides tax planning advice on a wide range of issues. Mr. Frost frequently handles complex cases in the following areas: IRS examinations, IRS tax levies, tax liens, wage garnishments, collection due process hearings, collection appeals, offer in compromises, requests for penalty abatement, payroll tax delinquencies, trust fund recovery penalties, foreign bank account reporting requirements (FBAR) and allegations of white collar crime including money laundering, currency structuring, willful failure to file, and willful failure to pay.

Fulton Mortgage
Contact: Brooks Grasso '89
Phone: 410-608-4255
Email: bgrasso@fultonmortgagecompany.com
Description:
Brooks has over 25 years' experience working in the mortgage services industry, during which he has helped thousands of families purchase, refinance or build a home. As Vice President of Fulton Mortgage Company, A Division of Fulton Bank, N.A., he provides leadership to the bank's mortgage professionals and provides mortgage services throughout the Mid-Atlantic Region.
"Buying, building or refinancing is most likely the biggest financial decision and investment that you will make in your lifetime. That is why you should only count on an advisor who has a proven track record as one of the top loan officers in the Country. I have been fortunate enough to be ranked as one of the Top Loan Officers in the Country for 20 years in a row. I would love to add you to my list of satisfied clients."
GO Consulting, Inc.
Contact: Jerry O'Keefe '77
Address: 1916 Wilson Point Rd.
Middle River, MD 21220
Phone: 443-519-4140
Fax: 206-888-6881
Email: jokeefe@goconsulting.biz
Website: www.GOConsulting.biz
Description of Business: Go Consulting is small business that meets the technology needs of small to medium businesses. We do not resell equipment or services, keeping our strategies and recommendations focused on what is best for our clients. We are able to keep our overhead very low, making us a bargain in the marketplace. We are in the business of making and keeping good relationships.  GO Consulting, Inc. provides services that range from creating a social media presence for your company to audio-visual-control systems to preventative maintenance and security to utilities and tools that will ensure heightened productivity and efficiency within your company.
Great Oak Lending Partner
Contact: Jack Hergenroeder '76
Address: 1920 Greenspring Dr Suite 160
Timonium Md 21093
Phone: 443-901-1777 ext 1027
Fax: 443-264-0268
Cell: 410-207-3669
Email: JHergenroeder@greatoaklending.com
Web Site www.greatoaklending.com
Description of Business: A full service mortgage broker, offering Commercial and Residential loans. We offer FHA, Va, Conventional, and reverse mortgages, available for either a purchase or refinancing. Contact us for a free no obligation review of your current mortgage. We offer the most competitive rates available in today's market.
Gross Mendelsohn & Associates
Contact: Ernie Paszkiewicz '75, Partner
Address: 1801 Porter St., Suite 500 Baltimore, MD 21230
Phone: 410-685-5512
Fax: 410-752-5042
Email: epaszkiewicz@gma-cpa.com
Website address: www.gma-cpa.com
Description of Business: Gross Mendelsohn is large local CPA and Business advisory firm servicing businesses, individuals and nonprofit organizations in the Mid-Atlantic region. In addition to the standard audit, accounting, tax and business advisory services, we provide computer consulting, business valuation, investment advisory and litigation support services to a wide array of industries.
H & R Block
Contact: Peter Kegel '84 – Tax Associate
Address: 4315-B Ebenezer Rd. Baltimore, MD 21236
Phone: 410 256-4233
Fax: 410 529-3125
Email: peter.kegel@tax.hrblock.com
Website address: www.hrblock.com
Description of Business: Tax preparation services.
Archbishop Curley is participating in H&R Block's Non-profit Referral Program.
The referral code is 40010001086269. For every new customer that presents the referral code when having taxes prepared at H&R Block, H&R Block will donate $20.00 to Archbishop Curley High School. New customer is defined as someone that did not have their taxes prepared at H&R Block last year. You can have your taxes prepared at any H&R Block Office by any H&R Block Tax Professional to participate. If you forget to write down the code just mention Archbishop Curley & the Non-profit Referral Program. All of the Baltimore area offices will have the referral code on hand.
Hamilton Bank
Contact: Lawrence Jackson '97 (Controller)
Address: 501 Fairmount Avenue, Suite 200
Phone: 410-823-4510
Fax: 410-823-4519
Email: ljackson@hamilton-bank.com
Website address: www.hamilton-bank.com
Description of Business: Small Community Bank with locations in Towson, Baltimore City (Hamilton), Cockeysville, & Pasadena . We offer business loans, home equity loans, mortgages, online banking, and 50,000 no-fee ATMs throughout the region through a partnership with M&T Bank.
The Harbor Park Group at Morgan Stanley
Contact: Jason S. Sarratea '92, CFP, First VP, Financial Advisor
Address: 303 International Circle, Ste. 500
Hunt Valley, MD 21030
Phone: 410-736-5337
Fax: 443-992-7766
Email: jason.s.sarratea@morganstanley.com
Website: https://advisor.morganstanley.com/the-harbor-park-group
Description of Business: We offer our clients sound investment counsel based on our research, intellect and hard work. It's an approach that has helped our clients work toward their financial goals since Morgan Stanley was established over a century ago. Whether you are beginning a relationship with our firm or broadening an existing one, we think you'll see that Morgan Stanley offers unique advantages to you as an investor.
Harford Pharmacy
Address: 1510 Conowingo Road
Phone: 410-838-0990
Fax: 410-836-8429
Email: harfordrx@gmail.com
Description of Business: Harford Pharmacy is a full service community pharmacy established in 1968. Home delivery available.
Hood & Scholnick, P.A.
Contact: Thomas S. Hood '76
Address: 101 E. Chesapeake Avenue, Suite 100
Towson, MD 21286
Phone: 410-494-9944
Fax: 443-275-0085
Email: thood@hoodandscholnick.com
Description of Business: A law firm concentrating in medical malpractice, automobile accidents, workers compensation, social security, bankruptcy, criminal defense and traffic defense.
Leading Logic, LLC
Contact: Jack Schammel '76, President
Address: 144 Thomas Jefferson Terrace
Elkton, MD 21921
Phone: 443-617-7614
Email: jack@leadinglogic.biz
Website: www.leadinglogic.biz
Description of Business: Since 2012, showing business owners and key executives the path to Business Results for Life – results are impactful, long-lasting, and life-enhancing. Our clients grow amazing companies and lead fulfilling lives by leveraging our expertise in strategy, leadership development, sales development, and coaching.
LEAD R US
Contact: Corey Floyd '99, Lead Inspector
Address:
Phone:
Email:
Website:
Description of Business: Lead R Us inspects residential rentals and apartment units for lead paint. We serve Baltimore City and County and other surrounding counties. Property Managers, landlords, realtors give us a call.
Liquor Stop
Address: 1510 Conowingo Road
Phone: 410-838-2797
Fax: 410-836-8429
Description of Business: Full line of discount beer, wine and liquor.
Lutz-Jesco America
Contact: Joseph Gibbons '74, Southeast Regional Sales Manager
Address:
Phone:
Email:
Website: www.lutzpumpsamerica.com
Description of Business: Lutz-Jesco manufactures chemical metering pumps, instrumentation, controllers, water analyzers chemical injection skids and drum transfer pumps. Specialize in environmental engineering.
Mail Harbor
Contact: Bradley Roth '99
Address: 5308 Grindon Avenue
Baltimore, MD 21214
Phone: 1-866-TIVILONx202
Fax: 1-877-232-9848
Email: brad@tivilon.com
Description of Business: A unique, web-based program designed to allow marketing over numerous media outlets with ease. Send text, voicemail, fax, and e-mail broadcasts to your constituents with a few simple clicks. As currently used by Archbishop Curley High School Alumni Association and Advancement Offices.
Major, Lindsey, & Africa
Contact: Michael Tyler '97, Digital Marketing Manager
Address:
Phone:
Email: michaeltyler1978@gmail.com
Website: https://www.mlaglobal.com/
Description of Business: We are a legal recruiting firm. I would like to connect with other alumni.
M.C. Dean, Inc.
Address: 22461 Shaw Road, Dulles, VA 20166
Phone: 703-802-6231
Website: www.mcdean.com
Description of Business: M.C. Dean, Inc. is the nation's 5th largest Electrical Specialty Contractor with over 3,000 employees. We are hiring apprentices, electricians, engineers for major projects in the Baltimore and Washington DC metropolitan areas. We specialize in electrical construction, electrical engineering, electrical service, security systems, and telecommunications. Major Baltimore area projects include Johns Hopkins Hospital, Downtown Hilton Hotel and Conference Center, Social Security Administration, and Fort Meade. We are growing our presence in Baltimore and opening a new engineering center on Ostend Street (near M&T Bank Stadium).
MapWide
Contact: Jerry Lotz '74, Regional Manager
Address: 2518 Perring Woods Road, Baltimore, MD 21234
Phone: 410-960-8269
Fax: 410-661-1846
Email: jlotz@mapdentist.com
Website address: www.mapwide.com
Description of Business: MapWide is a totally unique FILTERED 21st century search engine that helps consumers find local businesses/professionals. It helps businesses/professionals attract, engage, and retain consumers for the long haul. MapWide is a vertically integrated family of Map sites. Currently, there are ten Map sites (MapDentist, MapOptometry, MapDine, MapAuto. MapDoctor, MapAttorney, MapVet, MapAcupuncture, MapChiropractor, MapPlumber) and soon there will be hundreds connecting consumers and businesses/professionals. All Map sites are linked together which exponentially drives greater traffic to each portal. With chat rooms, forums, reviews, blogs, and other relevant content that enhance the search experience, Map directories not only bring consumers to each site, the directories also keep consumers engaged and prompt their return. Map directory listings are sophisticated marketing tools providing a place for in-depth company info, local maps, custom images, online coupons and specials, appointment setting function, and real-time online account management. So let us "Put Your Business on the MAP."
Medical Science and Computing
Contact: Jack Jackson '85
Address 11300 Rockville Pike, Suite 1100
Rockville, MD 20852
Phone: 240-514-4134
Cell: 202-317-0768
Email: jack@mscweb.com
Website: www.mscweb.com
Medical Science and Computing (MSC) is a leading technical and scientific Information Technology (IT) firm that provides client-customized, high-quality, low risk services to the Federal IT & scientific community. The MSC team brings deep expertise in the areas of Information Technology, Bioinformatics & Computational Biology, and Subject Matter Expertise (SME). MSC employs more than 500 highly-trained personnel at the NIH. We are recognized across the Federal research community for our client-centric focus and flexibility. Our staff is focused on living up to its corporate mission – devoting ourselves to NIH's goal of seeking and applying knowledge to enhance global health and improving research every day.
Mignini, Raab & Demuth, LLP, Attorneys at Law
Contact: Fred Raab '67
Address: 606 Baltimore Avenue, Suite 100
Towson, MD 21204
Phone: 410-426-3000
Fax: 410-821-7758
Email: fraab@migniniraab.com
Website: www.migniniraab.com
Description of Business: A general practice law firm concentrating in social security disability, estates and wills, elder law, personal injury, real property, bankruptcy, domestic and criminal law.
Mike Nelson, Realtor, of Long & Foster Real Estate, Inc.
Contact: Mike Nelson '89
Phone: 888-396-6453
Fax: 410-683-0051
Email: MikeNelson@LNF.com
Website: www.MikeNelsonRealtor.com
Description of Business: Let my Team and I guide you through the complicated world of real estate. We will be there from start to finish and beyond! I will be happy to provide all the information you need to buy or sell real estate in Baltimore County, Baltimore City, Southern York County, Harford County, and surrounding areas. As the premier real estate Team in Greater Baltimore & Southern York, we look forward to serving you and will be happy to help at any time.
ARE YOU BEHIND ON YOUR MORTGAGE PAYMENTS? Contact me to find out how I can help you sell your home with a SHORT SALE.
Mortgage247 LLC
Contact: Mike Dicea '95, Owner
Phone: 443-610-3564
Email: michael@mtg-247.com
Website: https://www.mtg-247.com/
Description of Business: We help people with financing for residential real estate transactions. Purchase, refinance, and renovation loans for primary residence, second homes, and investment properties.
Jay Naish, Certified Public Account
Contact: Jay Naish, CPA '74
Address: 20 West Aylesbury Rd., Ste. 100
Timonium, MD 21093
Phone: 410-494-9300
Email: Jay@JayNaish.com
Description of Business: Tax planning and compliance for individuals and small businesses. We offer caring service with practical experience.
Novak's Refreshment Service
Contact: Frank Novak '75
Address: 84 N. Prospect Avenue
Baltimore, MD 21228
Phone: 410-207-5510
Email: fmnovak@lycos.com
Description of Business: Provides quality vending services: snacks, candy, beverages.
Oasis Senior Advisors
Contact: Steve Gale '03
Address: 7230 Lee DeForest Dr. Suite 200
Columbia, MD 21045
Phone: 410-292-7833
Email: SGale@YourOasisAdvisor.com
Web: http://silverspring.oasissenioradvisors.com/
Description:
Oasis understands that changing homes – at any stage of life – is difficult. For seniors, this process is further complicated by the never-ending choices and costs associated with assisted living options. This is undoubtedly a stressful time for you and your loved ones.
Oasis Senior Advisors is a FREE, local, community-based referral placement service. We bring families and senior living communities together using a personal one-on-one approach.
As a senior living advisor, I work with seniors and their families to identify their needs and preferences (lifestyle, health care, location, finances, etc.) and match them with the perfect community – the "right place".
PSA Insurance & Financial Services, Inc.
Contact: Frank Giachini '77
Address: 11311 McCormick Rd, Hunt Valley, MD. 21031
Phone: 410-821-7766
Fax: 443-798-7135
Email: fgiachini@psafinancial.com
Website address: www.psafinancial.com
Description of Business: We help people & companies grow their assets and protect everything that is important to them. We are Maryland's #1 independent multi-disciplined financial services firm, providing Employee Benefits, Property & Casualty Insurance, Retirement Plan Services and Wealth Management Services. Our business model saves our clients their most precious commodity – TIME! Your Account Executive acts as one point of contact who has access to a broad team of Specialists, collaborating to deliver customized solutions for all your insurance and financial services needs.
Rebuli Auto Service
Contact: Andres Rebuli '07
Address: 1316 S. Philadelphia Blvd.
Aberdeen, MD 21001
Phone: 410-272-1170
Email: arebuli@aol.com
Description of Business: Specializing in Import and Domestic Auto Repair & Maintenance
Republic National
Contact: Christopher Moneymaker '04, Sales
Address:
Phone:
Email:
Description of Business:
Rollison, Craig & Quinn LLC
Contact: Mark E. Rollison '90
Address: 8140 Corporate Drive, Suite 210
Baltimore, MD 21236
Phone: 443-579-4891
Fax: 443-660-9564
Email: mark@rcqllc.com
Description of Business: A law firm concentrating in Criminal Defense, DUI/DWI, traffic citations, automobile accidents, and workers' compensation. Practicing in the District Courts, Circuit Courts, and MVA Administrative Hearings.
Rosedale Roofing
Contact: Joseph Hartman '86
Address: 1201 Middle River Road
Baltimore, MD 21220
Phone: 410-391-7663 x 229
Fax: 410-391-7099
Email: joehartman@rosedaleroofing.com
Website: www.rosedaleroofing.com
RSM McGladrey, Inc.
Contact: Bob Jirsa '73
Address: 100 North Charles Street, Suite 1300
Baltimore, MD 21201
Phone: 410-347-4953
Fax: 410-727-1936
Email: robert.jirsa@rsmi.com
Website: www.rsmmcgladrey.com
Description of Business: Providing accounting, tax, and consulting services to mid-sized companies (manufacturers, wholesale distributors, services, construction, not-for-profit, financial institutions and government contractors).
RussellStreetReport.com
Contact: Tony Lombardi '78
Address: 9326 Indian trail Way, Perry Hall, MD 21128
Phone: 443-799-4815
Fax: 410-732-0115
E-mail: tl@russellstreetreport.com
Website: www.russellstreetreport.com
Description of Business: THE web destination for Baltimore Ravens fans. Russell Street Report is the most comprehensive and insightful location on the net for those who bleed purple.
Securitas Technology
Contact: Rich Greensfelder '86
Phone: 410-918-7417
Email: richard.greensfelder@securitas.com
Website: www.securitases.com
Description of Business: Securitas Technology is your one point of contact for all your security issues. We provide installation, maintenance and monitoring on the following: intrusion alarms, fire alarms, video surveillance and access control.
Silberstein Insurance Group
Contact: Mark Glinowiecki '78, Benefits & Health Consultant
Address: 2330 W. Joppa Rd.
Lutherville, MD 21093
Phone: 410-823-8066
Email: mark@silbs.com
Website: https://silbs.aleragroup.com/
Description of Business: I work with employers of all sizes creating and maintaining a cost effective and competitive employee benefits program that will attract and retain high quality employees. I would like to connect with alumni business owners and help them with their employee benefits. In addition I would like to help fellow alumni and recent graduates find employment.
Spartan Equipment
Contact: Bill Karidias '84
Address: 503 Pulaski Highway
Joppa, MD 21085
Phone: 410-538-6000; 1-888-888-1085
Fax: 410-538-6001
Email: contact@spartanequipment.com
Website: www.spartanequipment.com
Description of Business: Spartan Equipment is a leading provider of attachments nationwide. We offer direct access to our products providing you with better knowledge and pricing. Our company mission is to provide our clientele with high quality attachments and the expertise on how our products will satisfy their requirements. Founded in 1997, Spartan Equipment is an American owned company that has led the attachment industry with innovative ideas and products that has helped revolutionize attachments for Skid Steer Loaders, Compact Track Skid Steers, Mini Skid Steers, Mini Excavators, Compact Tractors, Tractor Loader Backhoes and various other types of equipment.
Stephen Gould Group
Contact: BJ Miller '98
Address: 2011-A Century Blvd.
Germantown, MD 20874
Phone: 443-904-4679
Email: BJMiller@StephenGould.com
Website: www.stephengould.com
Description of Business: Largest privately owned packaging sales organization in the United States. Provide quality products and services that continue to meet the changing needs of a client base that now extends to nearly every sector of the world. Please see our Products page at the above web address.
St. Margaret School
Contact: Jon Gerstmyer '02, Assistant Technology Coordinator
Address:
Phone:
Email:
Website:
Description of Business: I monitor, repair, and provision devises for 680 students and 70+ faculty and staff. I also work on networking and security, website updating, and technological upgrades and repairs.
Tactical Source, LLC – Security & Training Services
Contact: Dan Rose '85
Address: P.O. Box 235
Bel Air, MD 21014
Phone: 443-791-0666
Email: info@tacticalsourcetraining.com
Website: www.tacticalsourcetraining.com
Description of Business: Tactical Source LLC is intensely focused on safeguarding our local communities. In addition to physical security services we offer a unique array of training sessions that are available to civilians, business owners, organizations, security professionals and law enforcement officers. We provide valuable training in areas such as Security Awareness, Safe Business – Robbery Prevention, etc. Our goal is to make our community a safer place for our children, students, parishioners, employees, consumers and dignitaries.
TEAM JED-Family First Realtors
Contact: Michael Jednorski '83-Associate Broker Cummings and Co. Realtor
Address: 111 Fulford Avenue, Suite B Bel Air MD 21014
Phone: 443-829-1274
Description-"Helping people to achieve their Goal of Buying and Selling Real Estate"
Tim's Automotive Services
Contact: Tim Bonner '83
Address: 3015 East Joppa Road and 8528 Old Harford Road
Baltimore, MD 21234
Phone: 410-665-9098 and 410-668-6161
Fax: 410-665-3969
Email: tim@timsautomotive.com
Website: www.timsautomotive.com
Description of Business: TIM'S Automotive & Towing is the largest independently owned automotive repair center in North-East Baltimore. Tim's has two full service automotive repair centers and a towing company in Parkville and Carney, MD. TIM'S is a family owned and operated business that has been proudly serving the Greater Baltimore Metropolitan area since 1987. We pride ourselves on being a one stop shop for any Automotive Repair. TIM'S motto "We will be here when you need us", describes the level of service we want to provide to every customer. We want to help our customers take care of their vehicles by providing quality technical assistance in a timely manner and with affordable prices.
Tivilon, Inc.
Contact: Bradley Roth '99
Address: 5308 Grindon Avenue
Baltimore, MD 21214
Phone: 1-866-TIVILONx202
Fax: 1-877-232-9848
Email: sales@tivilon.com
Description of Business: Founded by Curley alum Mark Zawodny '99, Tivilon's solutions include identity design, website design and development, website hosting, internet advertising, systems consulting and other marketing and internet professional services.
Velocity Performance Apparel
Contact – Scott J Walton '00
Address: 1700 North Laura Court, Jarrettsville MD 21084
Phone: 410-979-9320
Fax: 800-851-2740
Email: sjwaltonVPA@gmail.com
Website address: www.VelocityPerformanceApparel.com
Description of Business: We provide our customers with more than just customized embroidery, screen-printing and promotional. We have a large selection of products for you to choose from, allowing you to use our services for all of your apparel and novelty product needs, include hooded sweatshirts, jackets, hats, bags, team apparel, warm-ups, polo shirts, safety gear, blank apparel and much more. We can also provide your company an online shopping cart option for customized apparel. Call us for a quote and get into gear!
Viking Security Co.
Contact: Michael Goodman '82
Address: 10233 S Dolfield Rd.
Phone: 410-913-5538
Email: MiGoodman213.VS@gmail.com
Description of Business: We are a full service security company. We offer physical security, as well as cameras. All phases of investigation and protection, we also have limos and access to EMS/EMT medical transport for large events.
Wolf Insurance Group
Contact: Steve Wolf '78
Address: 9124 Belair Road
Baltimore, MD 21236
Phone: 410-529-7865
Fax: 410-529-7869
Email: stevewolf@comcast.net
Website Link:  https://www.loc8nearme.com/maryland/baltimore/wolf-insurance-agency/6979091/
Description of Business: Independent insurance agency providing auto, home, boat, motorcycle, business and life insurance through many companies. We excel at delivering prompt, accurate, friendly and caring service.
AUTOMOTIVE
Items coming soon.
BUSINESS SERVICES
Wolf Insurance Group
Contact: Steve Wolf '78
Address: 9124 Belair Road
Baltimore, MD 21236
Phone: 410-529-7865
Fax: 410-529-7869
Email: stevewolf@comcast.net
Website Link:  https://www.loc8nearme.com/maryland/baltimore/wolf-insurance-agency/6979091/
Description of Business: Independent insurance agency providing auto, home, boat, motorcycle, business and life insurance through many companies. We excel at delivering prompt, accurate, friendly and caring service.
Items coming soon.
CONSTRUCTION, LANDSCAPING, HOME SERVICES
Items coming soon.
REAL ESTATE
Items coming soon.
LEGAL SERVICES
Items coming soon.
NON PROFIT
Items coming soon.
HEALTHCARE
Items coming soon.
HOSPITALITY, RESTAURANTS, WINE & SPIRITS
Items coming soon.
TAX & INVESTMENT SERVICES
Items coming soon.
AUTOMOTIVE
Items coming soon.