Experience Curley!
The 34th Street lights in Hampden, the Domino Sugar sign, the Ravens vs. Steelers rivalry… There are some things you just have to see in person to get the full experience. The same is true with choosing a high school! The Office of Admissions invites you to come and experience the Curley Brotherhood by registering for a Friar for a Day visit.
A Friar for a Day visit is the best way to experience all that Curley has to offer. Each 8th-grade visitor is paired with a Curley student and has the opportunity to attend classes and meet our teachers and coaches. Friar for a Day visitors are equipped with an iPad for the day and lunch is on us!
To register for a Friar for a Day visit you can follow the link below where you will set up your account in Curley's database to start "The Process."  We ask that you first fill out your Future Friar Form so that we can get to know you better and can match you with a host for your visit that has similar interests. After you complete your Future Friar Form you can register for your Friar for a Day visit by accessing our calendar of available dates!
Click here to set up your account and start "The Process."
Curley offers a tour and information session for families each day that we host Friar for a Day visits. If your family would prefer a personal tour of campus you can schedule a visit by contacting the Office of Admissions at 410-485-5000 x304.
We look forward to hosting your family on campus this fall!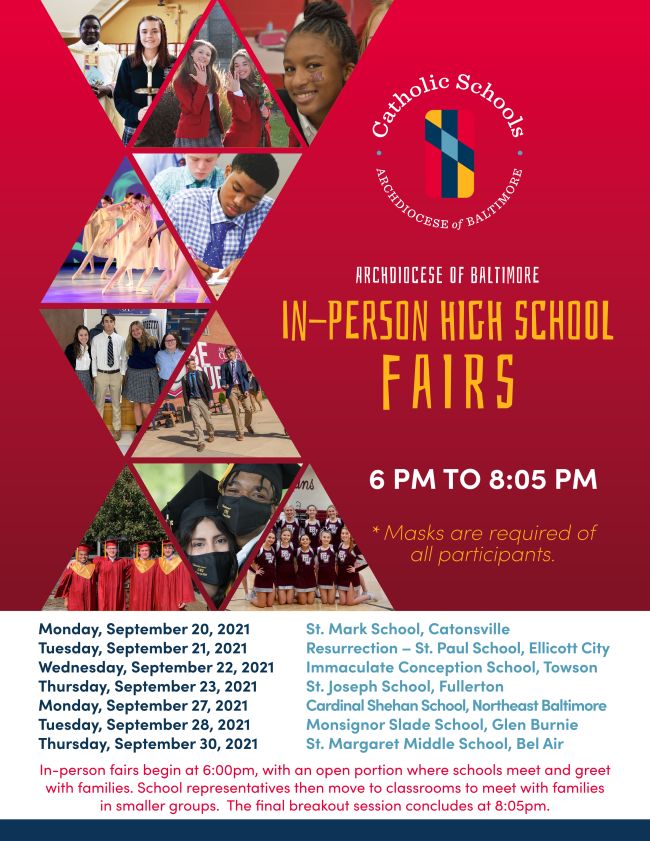 Come visit Curley at one of this year's in-person high school fairs. Curley will be in attendance at all seven events. High school fairs are a great opportunity to learn more about Curley and to meet our admissions staff and students. We hope to see you there!
---
---