---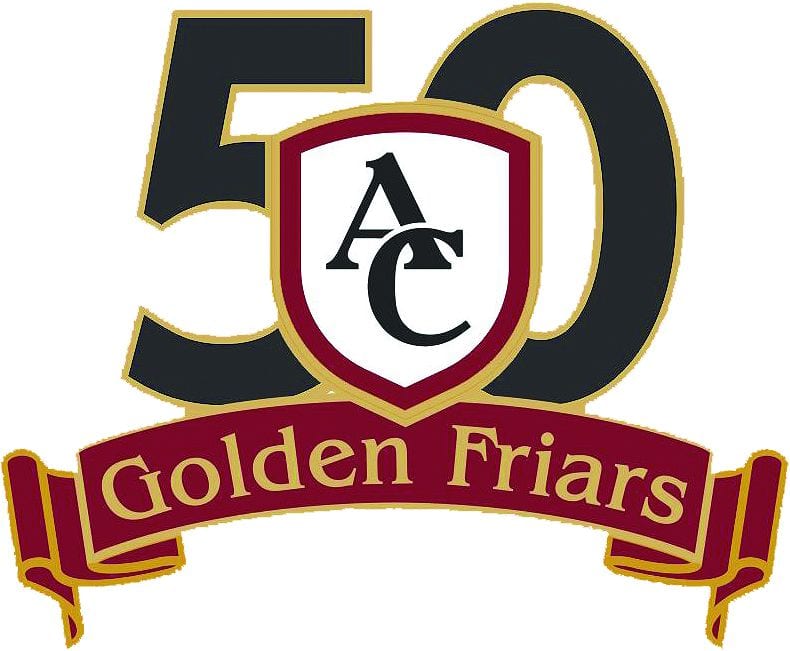 Class of 1973 — 50th Reunion



We look forward to the upcoming celebration of your 50th high school reunion.  As a school community we are pleased to welcome the Class of 1973 as official "Golden Friars."  The reunion committee has planned a series of events to commemorate this milestone.  Below, you will find information for the events.  Please let us know which you are able to attend by registering below.  A letter will also be mailed with this information and a response form to be mailed back should your prefer not to register electronically.  If you have any questions, please contact Director of Alumni, Greg Loftus, at 410-485-5000 ext. 280 or gloftus@archbishopcurley.org.
Friday, May 19, 2023
Mass of Celebration with the school community at Curley
Mass begins at 9:20 am, followed by refreshments and tours. Spouse or guest is welcome.
Jacket and Tie are requested.
Free event
Friday, May 19, 2023
Class of 1973 Golden Friar Reunion Celebration
Boumi Temple
5050 King Ave, Rosedale, MD 21237
7:00pm – 11:00pm
Cocktail hour begins at 7:00pm; Dinner begins at 8:00pm
Jacket and Tie are requested. Spouse or Guest welcome.
$80 per person
Friday, May 26, 2023
The 59th Commencement Exercises of Archbishop Curley High School
Cathedral of Mary Our Queen
5200 N. Charles St., Baltimore, MD 21210
Please arrive at 6:30 and meet at the front steps
Jacket and Tie are requested.
Free Event
Please click HERE to purchase tickets for the dinner, to RSVP for the other events, and to contribute to the Class Gift.
Click HERE Extension CORD in Word  to download a copy of the "Extension CORD"  in Word or click HERE extension cord as a pdf for a copy of the "Extension CORD" form as a pdf.  Fill it out with whatever info you wish to share with your classmates and mail or email it to Greg Loftus.
Golden Friars Class Gifts
Every year we celebrate a new class of Golden Friars, and every year we encourage the members of that class to contribute to an endowed scholarship to be named for that class.  The goal for each class is $25,000 which is the minimum amount required to establish a named scholarship.  All previous classes of Golden Friars have met this goal in order to create a scholarship to be awarded preferentially to a classmate's grandson.
To make a contribution to your class's gift online, CLICK HERE.
You may also write a check payable to Archbishop Curley High School. Please include in the memo line "Class of " " Scholarship and mail it to:
Alumni Office
Archbishop Curley High School
3701 Sinclair Lane
Baltimore, MD 21213
_____________________________________________________________________________________________
Golden Friars Lunches
We are happy to welcome our Golden Friars back to campus for a chance to enjoy lunch, catch up with your classmates, and tour the school to see what is new and spark memories with some of the things that haven't changed in over 50 years.  Check the schedule of events below and be sure to RSVP if you can make it.  We hope to see you there.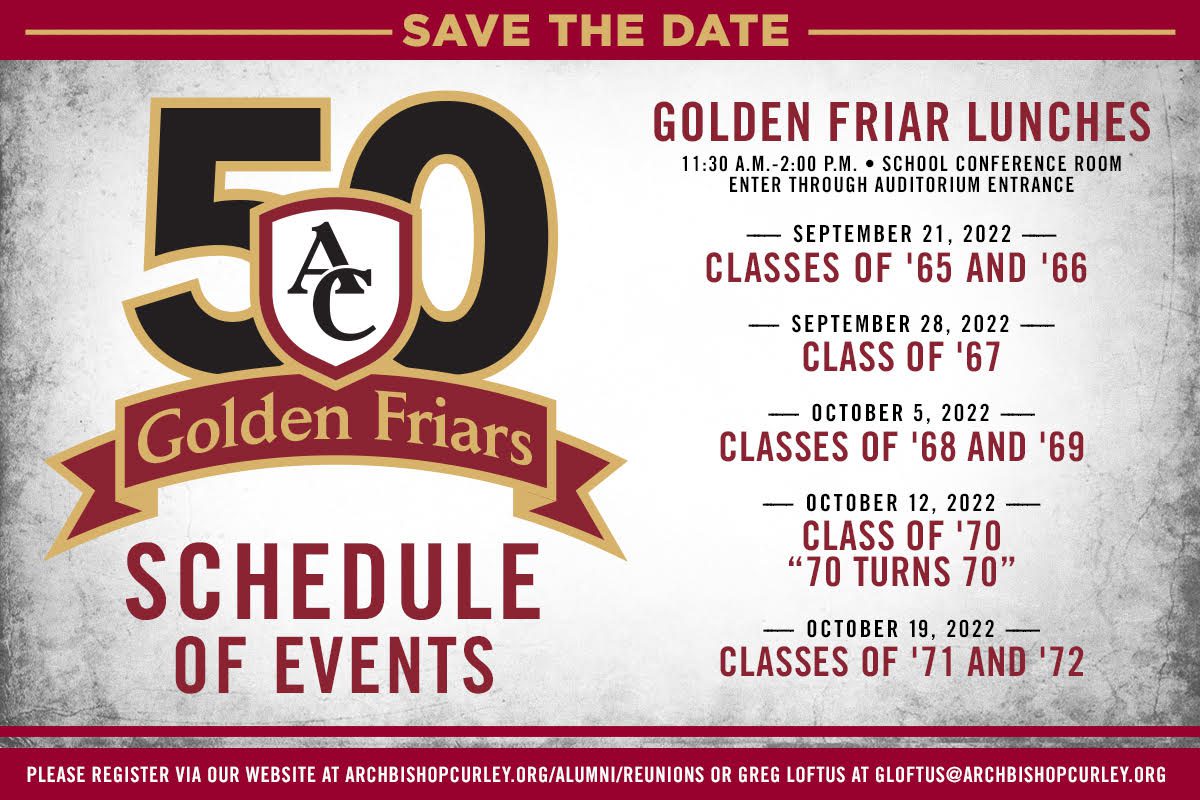 CLICK HERE to register for your Golden Friar Lunch
____________________________________________________________________________________________
REUNION NIGHT – November 25, 2022
If you are a graduate of any of the following classes please mark your calendars and save the date.
Friday, November 25, 2022

Classes of 1967, 1972, 1977, 1982, 1987, 1992, 1997, 2002, 2007, 2012, 2017
More information and registration opportunities will be posted as we get closer to November 25, 2022.