---
CELEBRATING THE CLASS OF 2022
58th COMMENCEMENT EXERCISES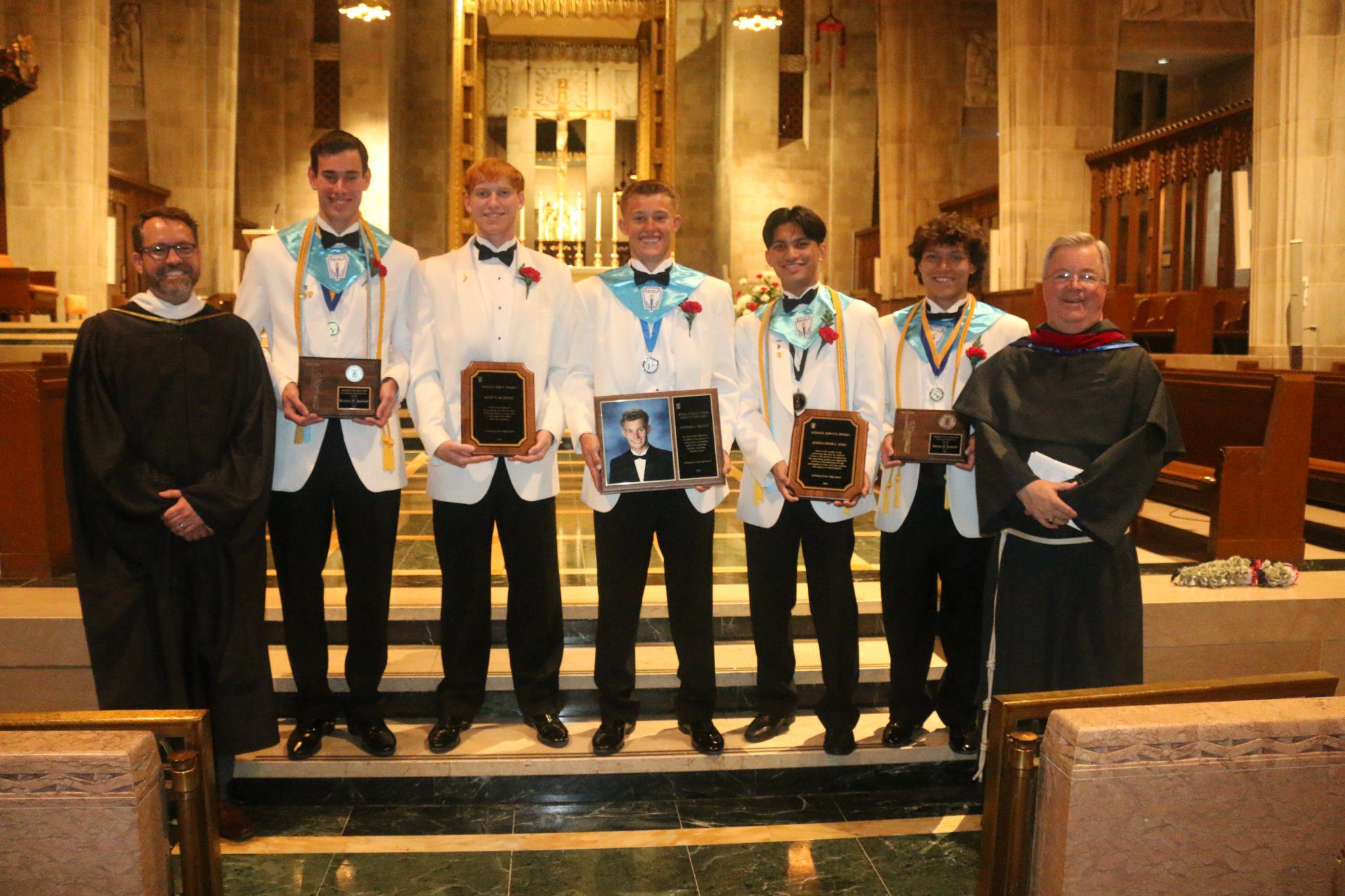 The fifty-eighth Commencement Exercises of Archbishop Curley High School took place on May 27th at Cathedral of Mary Our Queen for the class of 2022.
Mr. William J. McCarthy, Jr., Executive Director, Catholic Charities Archdiocese of Baltimore, was the Commencement Speaker.
The Archbishop Curley Medal was presented by Fr. Donald Grzymski OFM Conv. '70, President of Curley to Mr. Michael Brockmeyer '70, chair of the Curley School Board for his work on the Endowment and Mr. Frank Savarese '75, chair of the Capital Campaign and longtime chair of the golf tournament.
After Fr. Donald and Mr. Joseph presented the diplomas, the following awards were announced:
Ideal Curley Man of the Year – Joshua L. Smoot
School Spirit – Riley P. McBride
School Service – Joshua Zeyar C. Aung
St. Bonaventure Scholastic (Highest QPA 4 years) – Brandon M. Yackulak
St. Francis Scholastic (2nd highest QPA 4 years) – Enrique B. Schissler
After the school song was sung by all alumni present, Fr. Christopher Dudek OFM Conv., campus minister of Curley, led the assembly in benediction.
THE BACCALAUREATE MASS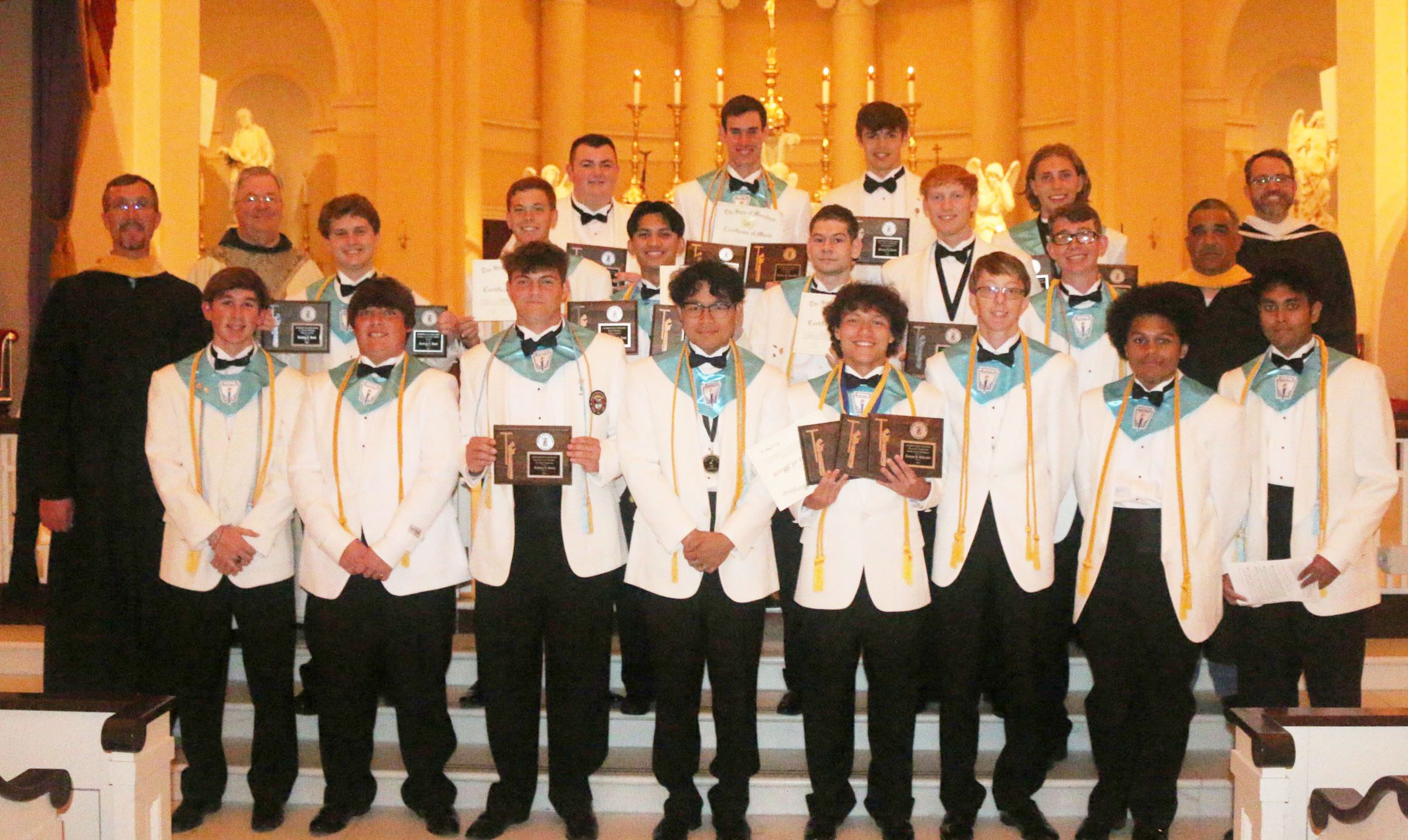 On May 25, 2021, The Class of 2022 gathered in the Basilica of the Assumption in Baltimore to celebrate their Baccalaureate Mass. As is the custom, the seniors walked past the tomb of Archbishop Curley in the crypt as they made their way into the upper church of the Basilica. Fr. Donald Grzymski OFM Conv. '70, president of Curley, was the principal celebrant and homilist. He spoke about our traditions as Curley men and staying close to Jesus as branches on a vine.
After Communion, the following awards were presented:
Fr. Julian Athlete of the Year – Enrique B. Schissler
Archbishop Keough (3rd highest QPA Senior year) – Enrique B. Schissler
Lawrence Cardinal Shehan (2nd highest QPA Senior year) – Zachary E. Rand
Archbishop Curley (Highest QPA Senior year) – Brandon M. Yackulak
John Hartman Music – Joshua Zeyar C. Aung
St. Gregory Choral – Kyle M. Pierorazio
Michelangelo Buonarroti Art – Aiden L. Berkenkemper
The Albert J. Strubinger (Business) – Weston L. Banks
E. Patrick Moloney (History) – Zachary E. Rand
Stanley J. Giermek (Mathematics) – Brandon M. Yackulak
Excellence in Modern Foreign Languages – Zachary A. Gaeta
C. Markland Kelly (Physical Education) – Riley P. McBride
Daniel Biser Memorial (Science) – Joshua Zeyar C. Aung
Ganster Award (English) – Aiden L. Berkenkemper
St. Maximilian Kolbe for Excellence in Religious Studies – Enrique B. Schissler
State of Maryland Merit Scholars – Joshua Zeyar C. Aung, Zach P. Lee, Gregory L. Majerowicz, Michael Racosky, Enrique B. Schissler, Brandon M. Yackulak
Franciscan Youth Ministry – Joshua L. Smoot
Friars Nation – William D. Majerowicz
John Philip Sousa Award – Michael Mann
Louis Armstrong Jazz Award — Lucas Campbell
Blackfriars' Theatre— Joshua Zeyar C. Aung
Archdiocese of Baltimore Eagle of the Cross Award – Jasper C. Cavin
Franciscan Scholars who received honor cords (Magna Cum Laude) — Joshua Zeyar C. Aung, Jacob H. Brown, Kirk M. Heise, Luke W. Lacy, Gregory L. Majerowicz, William D. Majerowicz, Sahaj K. Patel, Michael Racosky, Zachary E. Rand, Enrique B. Schissler, Camden E. Sigmon, Brandon M. Yackulak, Timothy Villanueva