---
CELEBRATING THE CLASS OF 2021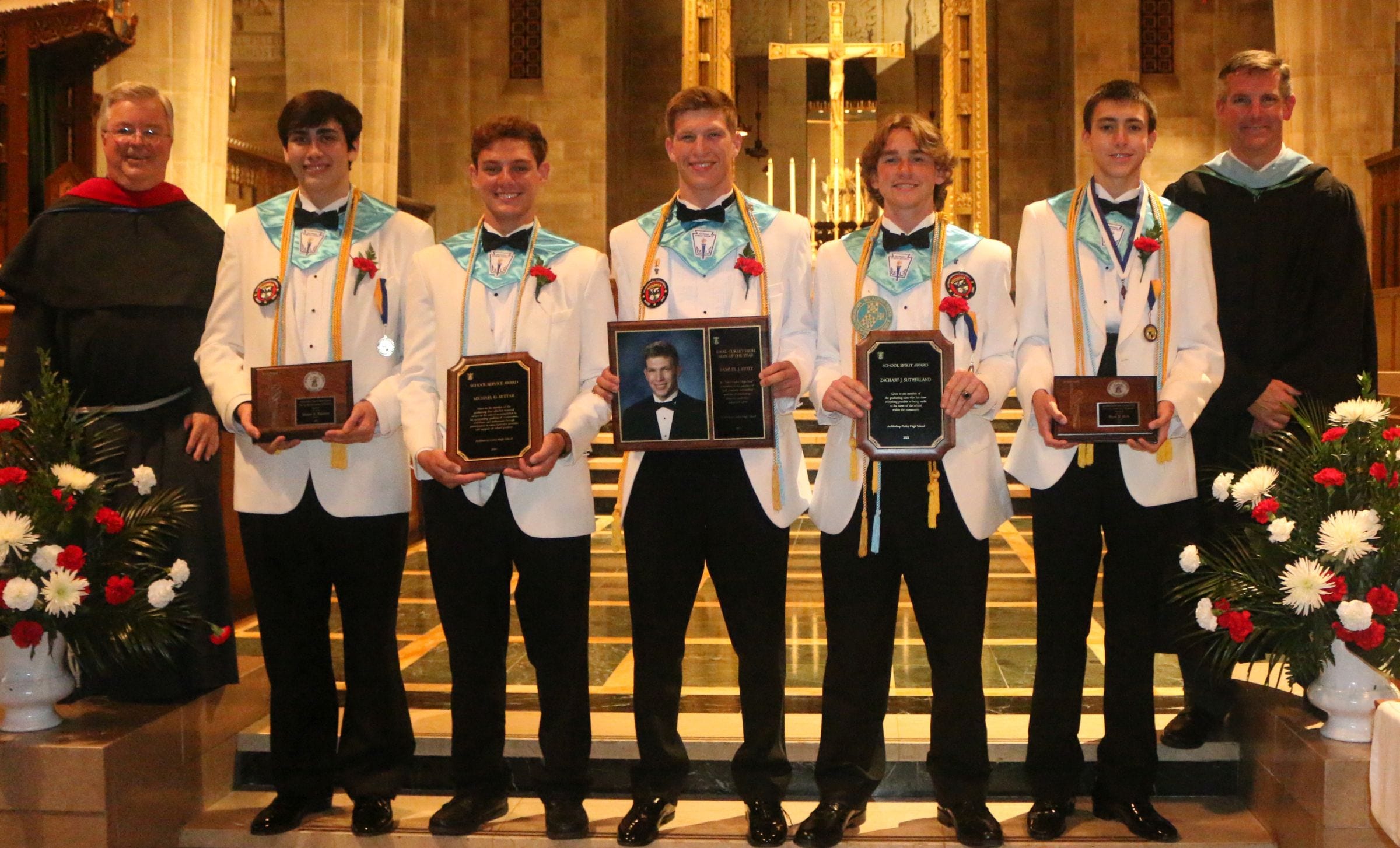 COMMENCEMENT
We were fortunate to be able to celebrate the Commencement Exercises for the Class of 2021 in the traditional location, the Cathedral of Mary Our Queen on May 28, 2021. Attendance was limited, but the ceremony was livestreamed. The commencement speaker was Reverend Brian F. Linnane, S.J., the President of Loyola University Maryland. The Archbishop Curley Medal was presented by Fr. Donald Grzymski OFM Conv. '70, President of Curley to Mr. Howard L. Meyers '66 for his generosity in providing scholarships to Curley men. Mr. Brian Kohler, Principal of Curley who accepted a position as president of Archbishop Spalding, was given an Eagles jersey with the number 21 by the senior class.
After Fr. Donald and Mr. Kohler presented the diplomas, the following awards were announced:
Ideal Curley Man of the Year – Samuel J. Stitz
School Spirit – Zachary J. Sutherland
School Service – Michael G. Settar
St. Bonaventure Scholastic (Highest QPA 4 years) – James N. Foreman (4.61)
St. Francis Scholastic (2nd highest QPA 4 years) – Ryan P. Peck (4.60)
After the school song was sung by all alumni present, Fr. Christopher Dudek OFM Conv., campus minister of Curley, led the assembly in benediction.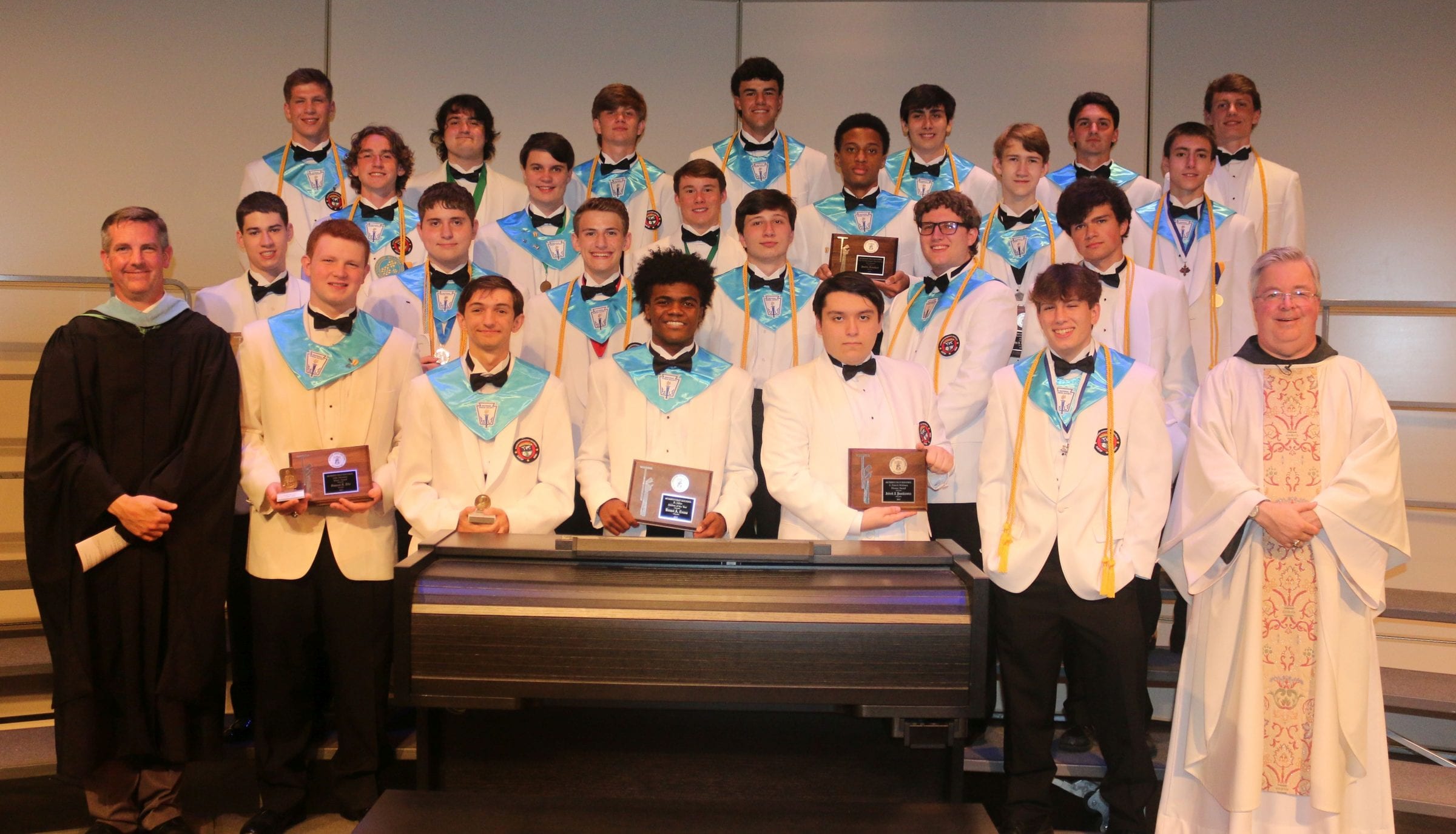 THE BACCALAUREATE MASS
On May 26, 2021, The Class of 2021 gathered in the Suehle Auditorium one last time as a class to celebrate their Baccalaureate Mass with their parents. Fr. Donald Grzymski OFM Conv. '70, president of Curley, was the principal celebrant and homilist. He spoke about our traditions as Curley men and staying close to Jesus as branches on a vine.
The readings from Scripture were proclaimed by Robert Winfield '21, SGA President and Bryce Esposito '21, President of the Class of 2021.
The Prayers of the Faithful were lead by Denzel Evans '21, SGA Vice-President and Jedrek Puskiewicz '21, Vice President of the Class of 2021.
After Communion, the following awards were presented:
Fr. Julian Athlete of the Year – Denzel A. Evans
Archbishop Keough (3rd highest QPA Senior year) – John R. Guilfoyle (4.84)
Lawrence Cardinal Shehan (2nd highest QPA Senior year) – Lucas C. Benedetto (4.85)
Archbishop Curley (Highest QPA Senior year) – Ryan P. Peck (4.92)
John Hartman Music – Samuel N. Zito
St. Gregory Choral – Dominic M. Bechtel
Michelangelo Buonarroti Art – Justin Fowlkes
The Albert J. Strubinger (Business) – Brandon P. Holy
E. Patrick Moloney (History) – Jedrek J. Puszkiewicz
Stanley J. Giermek (Mathematics) – Connor R. Overend
Excellence in Modern Foreign Languages – Zachary J. Sutherland
C. Markland Kelly (Physical Education) – Brandon P. Holy
Daniel Biser Memorial (Science) – Ian K. Straub
Ganster Award (English) – Ryan P. Peck
St. Maximilian Kolbe for Excellence in Religious Studies – Ryan P. Peck
State of Maryland Merit Scholars – James N. Foreman, Ryan P. Peck, John R. Guilfoyle, Zachary J. Sutherland, Samuel J. Stitz, Lucas C. Benedetto
The Cord Service – James N. Foreman
Franciscan Youth Ministry – Zachary J. Sutherland and Michael G. Settar
Friars Nation – Noah E. Sainz
John Philip Sousa Award – Ethan Fabyan
Louis Armstrong Jazz Award — Samuel N. Zito
Blackfriars' Theatre— Michael B. Brown, Bryce A. Esposito
Archdiocese of Baltimore Eagle of the Cross Award – Ryan P. Peck, Zachary H. Hanlon
Franciscan Scholars who received honor cords (Magna Cum Laude) — James N. Foreman, Ryan P. Peck, John R. Guilfoyle, Zachary J. Sutherland, Samuel J. Stitz, Lucas C. Benedetto, Michael B. Brown, Nathan G. Hohensee, James C. Michel II, Bryce A. Esposito, Zachary H. Hanlon, Liam X. Kuhl, Connor R. Overend, Samuel M. Parizek