What is Mu Alpha Theta?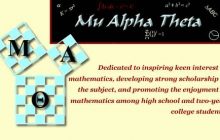 Mu Alpha Theta is the international honor society for mathematics. Its purpose is to promote scholarship in, and enjoyment and understanding of, mathematics among high school and two-year college students. To be eligible for membership in the Curley Chapter, a student must have completed three years of college preparatory honors mathematics courses and be enrolled in PreCalculus, Honors Calculus, AP Calculus or AP Statistics. The student must maintain at least a B+ average in these courses.
Thirty-seven students were inducted in Mu Alpha Theta on December 20, 2018.
Seniors: Michael Ditzel, Connor Draper, Timothy Fair, Adam Peck, Wyatt Peters, Joseph Schlee, Logan Stratton, Christian Thomas, Kollin Wisniewski.
Juniors: Shayne Auffarth, Reed Barra, Zachary Born, Jeffrey Brown, Gage Collahan, Mitchell Frye, Chase Glenn, Ian Hoffman, Joseph Kurek, Hunter Luers, Nicholas McConnell, Kevin Myers, avid Nakasone, Joseph Nakasone, Eekiel Ober, Mason Paradise, Alexander Petr, Russel Reside, Anakin Schneider, Ryan Seay, Adrian Triguero, Lucas Triplett.
Sophomores: James Foreman, Connor Overend, Jaemin Ryu, Zachary Sutherland, Du Van.
Freshmen: Xuan Loc Doan
Current members: Yazan Sawalhi '20 (President), Scott Giampa '20 (Vice-President), Yongze Wang '19 (Secretary), Nicholas Andrews '19, Ronix Bhandari '19, Parker Boomer '19, Anthony Dragisics '19, Kyrian Elekwachi '19, Michael Gardiner '19, Tobi Majekodunmi '19, Jorge Silveira '19.
The chapter moderator is Ms. Carrie Jenkins.