National Honor Society
On Monday, January 27, 2020, induction ceremonies were held for the Lawrence Cardinal Shehan Chapter of the National Honor Society.
The Induction Ceremony was emceed by David Nakasone, President of the NHS. Kevin Franiak, Vice President, spoke about Scholarship as a characteristic of a member of the National Honor Society. Russel Recide, NHS Secretary, explained Service. David Nakasone NHS Treasurer explained Leadership. Joseph Nakasone, NHS President, explained Character.  These four elements are the foundation of the National  Honor Society.
After the inductees took the National Honor Society Pledge, each student came to the stage to receive the NHS stole and the certificate of membership.
The new NHS members are:  Lucas Benedetto, Kenten Bero, Michael Brown, Quinn Caltrider, Kobe Davis, Christopher Denholm, Bryce Esposito, Ethan Fabyan, James Foreman, Justin Fowlkes, John Guilfoyle, Zachary Hanlon, Nathan Hohensee, Brandon Holy, Joshua Knapp, Nicholas McConnell, James Michel, Ryan Peck, Anthony Schlee, Michael Settar, Samuel Stitz, Ian Straub, Zachary Sutherland, Devin Thompson and Samuel Zito.
The National Honor Society is moderated by Mrs. Joanne Berkey and Mr. David Polsinelli.
The Mathematics Honor Society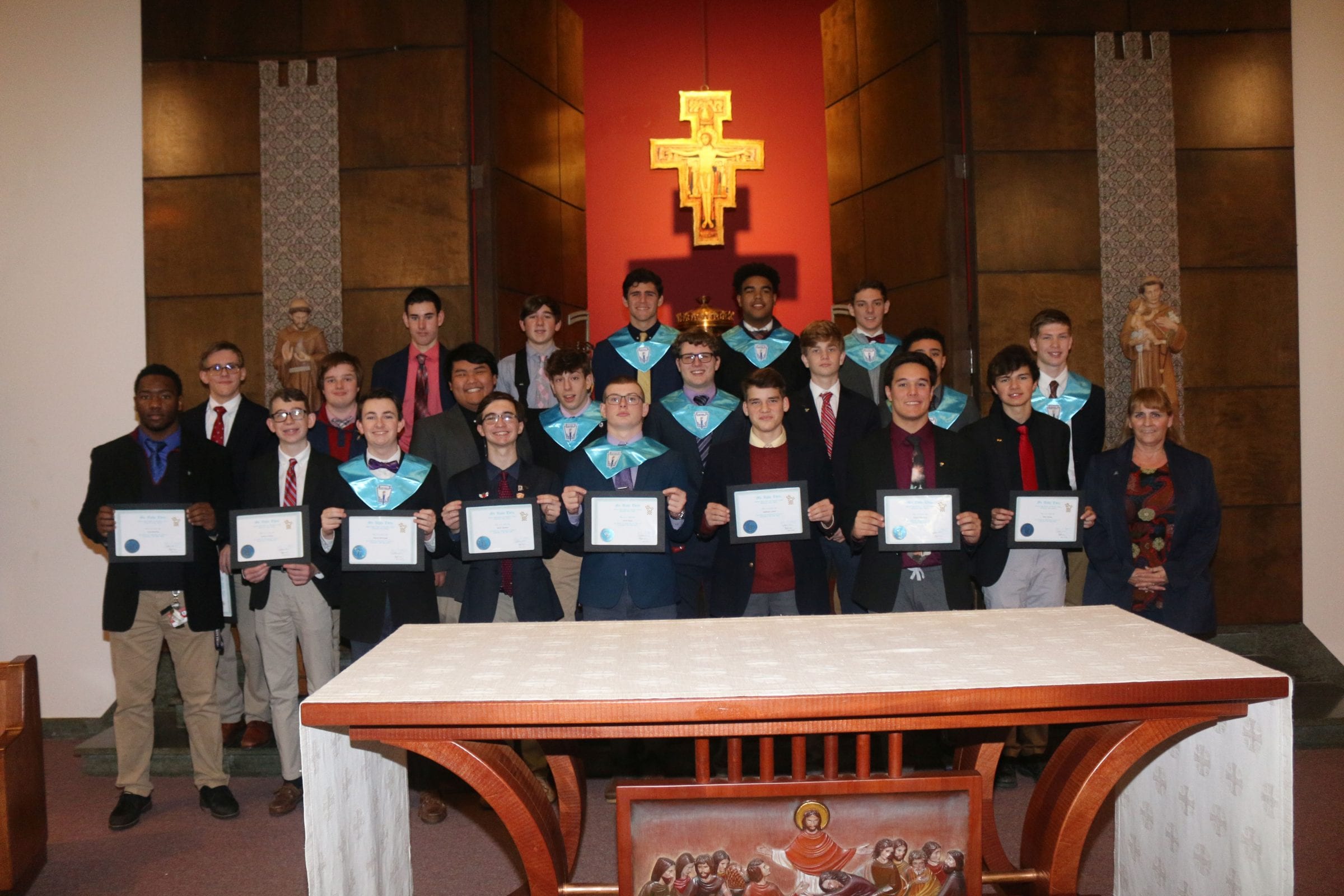 The Mathematics Honor Society, Mu Alpha Theta, welcomed 23 new members into its ranks: Cyrus Brewster '23, Jamaun Brown '23, Steven Carter Jr. '23, Adam Delss '23, Kobe Hall '23, Levi Kosack '23, Matthew Lynard '23, Tyler Makowiecki '23, Dylan McNutt '23, Dillon Michaloski '23, Garrett Middlecamp '23, Mason Petr '23, Ty Ross '23, Brett Towsley '23, Peter Zito '23, Kamron Hampton '23, Khalani Dawes '23, Holden Bower '22, Asher Kosack '22, Greg Majerowicz '22,Cam Sigmon '22, Hans Vonderhorst '22, Charles Gonce '21, Nate Hohensee '21, Michael Kurek '21, Ryan Peck '21, Tim Sank '21, Abe Walz '21, Sam Zito '21, Glenn Andreasik '20, Francis Bennett '20, Zachary Born '20, Joseph Kurek '20, Hunter Luers '20, Seth Maharaj '20, Nico McConnell '20, Jacob Simmons '20, Max Corcoran '20.
Mu Alpha Theta, the National High School and Two-Year College Mathematics Honor Society, was formed in 1957 at the University of Oklahoma. They are dedicated to inspiring a keen interest in mathematics, developing strong scholarship in the subject, and promoting the enjoyment of mathematics in high school and two-year college students. Currently, more than 124,000 students are Mu Alpha Theta members at more than 2,633 schools in the United States and in 23 foreign countries.
At Curley, to be eligible for membership, a student must have completed Algebra 2 and be enrolled in PreCalculus, Honors Calculus, AP Calculus or AP Statistics, and have a recommendation from his math teacher.   In addition, he must maintain at least a B+ average in these courses.  To maintain status, he must participate in society activities.  The Math Honors Society  is currently offering peer tutoring, planning school wide activities for PI day, sponsoring a math club,  and participating in math contests.
The Mathematics Honor Society is moderated by Mrs. Carrie Jenkins.
The Spanish Honor Society


To be a member of the Spanish Honor Society, a student must take 4 years of Spanish with an A average plus a B average in all other courses.
The following students qualified and were inducted on January 27, 2020:  Nico McConnell, Kevin Franiak, Dylan Sloan, David Gregory, Mitchell Frye, Davontae Carter, Hunter Luers, Adrian Triguero, Tyler Harry, Joe Kurek, Ryan Seay, Patrick McDonald, Yazan Sawalhi, David Nakasone, Russel Reside, Anthony Harrison, Shayne Auffarth, James Sandoval, Sean Lord and Scott Giampa.
Ms. Cheryl Jose is the moderator of the Spanish Honor Society.